Hace unos meses, me estaba congelando en mi apartamento de Nueva York respirando el delicioso olor de la basura caliente y la desesperación del muggle existencial, cuando un búho voló por mi chimenea y me invitó a Hogwarts. Y con eso quiero decir que recibí un email invitándome al set de Fantastic Beasts: Los Crímenes de Grindelwald junto con otros afortunados escritores de entretenimiento. Naturalmente, inmediatamente perdí el frío. Aquí hay algunas imágenes exclusivas de mí del día en cuestión: Como podéis imaginar, el conjunto de Fantastic Beasts estaba profundamente encerrado durante mi visita, lo que significa que no pude tomar ninguna foto espeluznante de nuestro novio imaginario colectivo, Ezra Miller. Pero sí pude hablar con gente como Eddie Redmayne y el novato Callum Turner (que interpreta al hermano mayor de Newt, Theseus, de Auror), y hacer un recorrido por el plató de París, y avergonzar a todos los que me rodean haciendo cosas como ésta: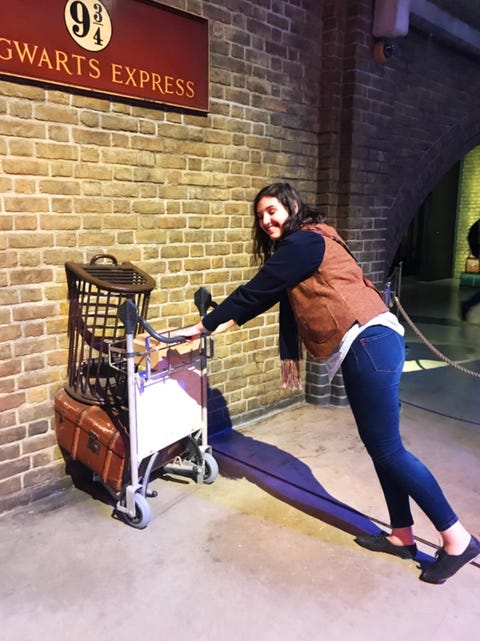 Aquí hay 11 secretos mágicos en el set que aprendí en el camino.
1. La película va a ser SEXY
Hola, escritores de Harry Potter, tus sueños están a punto de hacerse realidad. Al menos según el director David Yates: "Esta es una película mucho más sensual", nos dijo. "Realmente no teníamos sensualidad o sexualidad en ninguno de los Potters o incluso en las primeras Bestias Fantásticas. Esta es una historia de amor. Hay un sentido de sensualidad entre los personajes, que es encantador, en realidad. Se siente como si todo estuviera creciendo y haciéndose un poco más sofisticado". Hablando de sensualidad, conoceremos al asistente de Newt que está enamorado de él. "Ella es un personaje maravilloso llamado Bunty", me dijo Eddie Redmayne. "Sólo tiene una escena o dos en la película y es realmente.... era una fan."
2. Callum Turner (Teseo!) fue lanzado gracias a un beso espontáneo a Eddie Redmayne en la cabeza.
"Hice esta cosa extraña. Hay una escena, y.... le besé en la cabeza," dijo Turner, quien es adorable y con quien estarás obsesionado, reflexionó. "Yo sólo... ni siquiera estábamos grabando, y um... no está en la película. No hay razón para que lo haya hecho, pero sí, creo que por eso me dieron el papel. En realidad no dijo nada, pero estoy seguro de que cuando salí de la habitación eran como'Huh?'" Aquí hay una vista exclusiva del director David Yates charlando con Callum y Eddie en el set. ¡¿No parecen legítimos?!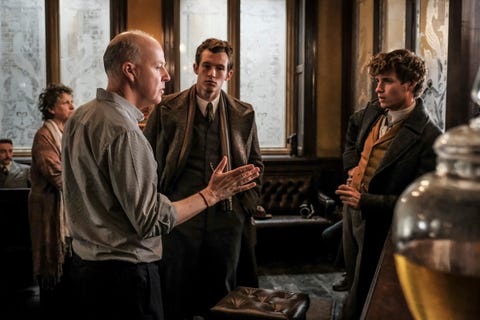 3. Callum Turner literalmente fue a la escuela de la varita mágica
Como en, tomó clases de movimiento con el entrenador Alex Reynolds. ¿Qué significa que fue a la versión de Hogwarts de la vida real? "Pasamos mucho tiempo en una escuela de varitas mágicas", dijo. "Hice una película hace unos años en la que interpreté a un punk y aprendí un poco a tocar la batería, no muy bien, pero la forma en la que sujeta los palos es muy interesante, los bateristas. La idea de que Teseo sea un punk o una especie de rebelde, que sea fiel a lo que era cuando era más joven, aunque ahora forme parte de la clase dirigente. Eso es algo en lo que Alex y yo trabajamos".
4. Vamos a volver a Hogwarts!
La escena es breve, pero David Yates confirmó que la película regresará a Hogwarts en 1927, explicando que "fue una parte natural muy orgánica del proceso de desarrollo que nos llevó de vuelta allí".
¿Conoces cual es el lema de hogwarts?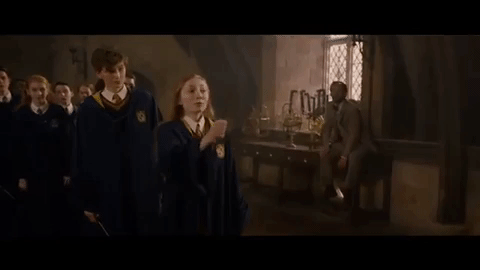 Espera, eso significa que también vamos a ver trajes de Hogwarts completamente nuevos (!!!!!!), y están llenos de elementos de diseño nerd. "La bata está basada básicamente en una bata medieval", dijo Colleen Atwood, diseñadora de vestuario y ganadora de un Oscar casual. "Les hice unos adornos de terciopelo y las capuchas son de los colores de la casa, así que hicimos cosas divertidas como esa".
5. El Departamento de Vestuario es GRANDE
"Creo que hemos hecho 2.500 pruebas y probablemente nos faltan unos cuatrocientos o quinientos", explicó Atwood mientras las mandíbulas caían al suelo. "Cuando no tengo una gran afluencia de público, el departamento de vestuario está probablemente entre 70 y 100 personas, es decir, el envejecimiento, la muerte de los textiles y la adaptación. Todo el tiempo que estamos filmando, también estamos haciendo disfraces para la siguiente escena, así que tengo un equipo de seis personas haciendo eso, seis personas alterando eso, seis personas envejeciendo eso, y eso sigue y sigue".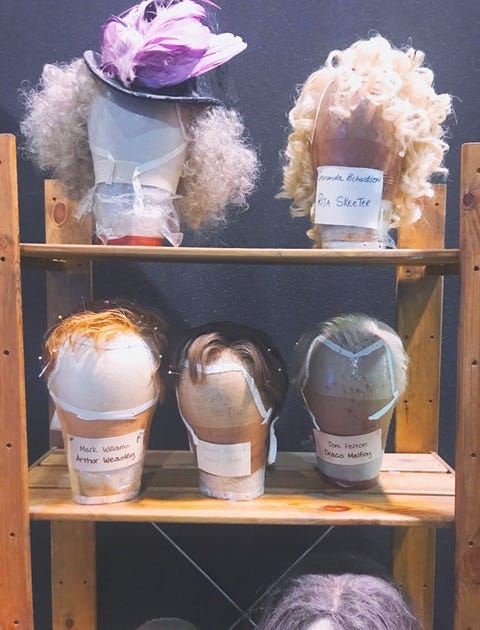 Sólo unas pelucas casuales de la gira del estudio de Harry Potter, que naturalmente seguí después de la visita al plató.
6. Es cierto que la sexualidad de Dumbledore no se discute realmente
J.K. Rowling confirmó que Dumbledore es gay hace años -pero en febrero David Yates dijo a Entertainment Weekly que su sexualidad no sería explorada "explícitamente" en The Crimes of Grindelwald- y tuvo mucha reacción violenta. El productor David Heyman confirmó lo mismo durante esta visita al plató, diciendo: "En última instancia, Jo habló de Dumbledore como gay. No está conduciendo (la historia de como Dumbledore obtuvo la varita de Grindelwald). Pero bien podría ser parte de ello. Quiero decir, ya sabes, todos sabemos que han tenido una amistad. Una amistad muy cercana." FWIW, J.K. Rowling reaccionó a la entrevista original de David Yates, recordando a los fans que hay un total de cinco películas.
7. Pero definitivamente hay temas más grandes de diversidad
"Se trata realmente de los valores de tolerancia y comprensión, y de una celebración de la diversidad", nos dijo Yates. "Son las ideas que atraviesan muchas de las obras de Jo. Y son los valores que exploramos en esta película y las cosas que desafían esos valores y los socavan, como la promoción del miedo y la persecución de la alteridad. Esas cosas pasan por la historia. No sólo son relevantes para el presente. Lo que da un poco de miedo es que se están volviendo más relevantes ahora".
8. Para tu información, hay nombres de códigos secretos para los caracteres en el juego
Según Redmayne, "Newt es el 'Buen Tipo', Tina es 'Turner', después de Tina Turner, y Dumbledore es el 'Muy Buen Tipo'".
9. Hay un montón de nuevos personajes, ¡como Kama!
Conoceremos un montón de nuevos personajes en esta película, pero todos en el plató fueron particularmente cautelosos y misteriosos con Kama. Per Heyman, "Kama es un gran personaje. Es alguien que ha venido en busca de respuestas. No puedo decirte cuáles son esas respuestas o cuáles son las preguntas, pero es una persona con una herida emocional para la que está tratando de encontrar respuestas". Hmmm.....estoy intrigado.
10. Hay Bebé Nifflers en esta película - Repito BABY NIFFLERS
Y naturalmente Eddie Redmayne está obsesionado con ellos. "Mi escena favorita para rodar hasta ahora, tiene que ver con el bebé Nifflers", este es mi persoje favorito exceptuando a dobby harry potter el es insuperable. "Sólo están causando estragos y coincidió con el tiempo en que ahora tengo un hijo de 15 meses. El bebé Nifflers conserva muchas de las cualidades de mi hijo de 15 meses".
11. Y finalmente, hay una versión parisina de Diagon Alley
Lo vi con mis propios ojos y estoy aquí para decirles que es impresionante -completo con la versión francesa de una tienda de varitas, la versión francesa de una tienda de ropa y la versión francesa de una tienda de dulces. Entonces, ¿cómo entraste? "Hay una hermosa estatua en la calle, ella mueve la pierna y uno pasa por debajo de la base", explicó el director artístico Martin Foley. "Y cuando pasas a través de la estatua estás en una parte mágica de París. Así que ahora nos estamos divirtiendo convirtiendo tiendas en tiendas de magos. Es un poco como la versión francesa de Diagon Alley." ¿Estás emocionado por ver Fantastic Beasts? Lo mismo, así que antes del juego con el trailer antes de que la película caiga el 16 de noviembre.
Tambien te puede interesar:
▷ 7 útiles de vuelta a la escuela 2018 / 2019 para todos los pequeños y grandes Frikis
▷ Tres nuevos libros basados en Harry Potter a la venta
▷ ¿Es Dobby "el elfo doméstico" un anti héroe en el universo de Harry Potter?